Hey there folks. I'd like to thank Aron and everyone else for all the help this forum has been to me in building my first ever pedal. BUT - the damn thing don't work. So I toss my cry of "Help" into cyberspace...
Here's the deal:
1. Built it once, screwed up the schematic (I was building from the top) tried to remedy, didn't work at all.
2. Built it again, paid closer attention to my soldering. When I use it, I get an extreme volume cut, barely audible at lower settings, last 10% of the pot gives low-volume, highly distorted output.
3. Followed the walkthru to a T, except switched transistor with an NTE123AP. Stereo in, mono out, 5k linear pot, etc.
4. Checked voltages, and compared with the schematic/voltage thing offered in the thread "Another non-working NPN boost".
Like so: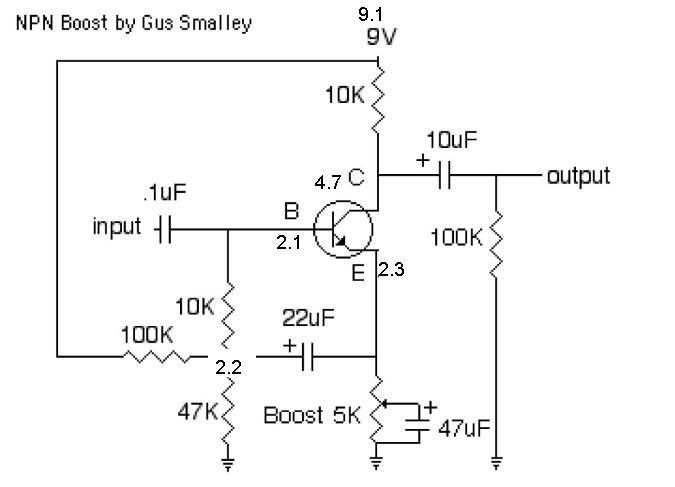 (Analog multi-meter = one decimal point only

)The base looks low, as does the collector, but I'm not sure what to do about it. Also: voltage at circuit board end of BLACK battery lead is nonexistent (0.0) - is this right? Triple-checked my resistor/capacitor values, and they're all good. Transistor's facing the right way. Couldn't find any solder bridges - though my soldering is pretty ugly. I'll post some pictures once I get my hands on a camera, so you can all wince at my handiwork.
Thanks loads. I can't wait to get this thing working!
Aaron