A bunch of people asked me for some more details of my 666 entry ...especially what it looked like with the eyes lit up. [I never took any great shots since I literally finished about 10 min before the deadline]. Actually, the reason I came up with this is because I wanted something to look demonic from the spectator's POV in a typically dimly lit crowd.
In the past, I've circuit bent a ton of small plastic toys and had to navigate small passageways and lack of room. I had to bend wires around corners, carve away edges here & there, but this was way tougher. I will never do something like this again.
I never planned that the only way to build this Skull was to solder all the parts together first (The board, 2 jacks, 3 pots, 3 switches, 2 leds & the battery connector) and then cram it inside a 2 3/8" diameter hole. Since the 666 comp, I actually added 2 more controls, so I actually took it apart. Sadly, I had pics of all the parts before the cram job, but the camera crashed & I had to reformat after I put the pieces in. Just imagine trying to fit & fasten 8 components in all different directions without twisting off a joint. I dread the time when one solder joint vibrates loose...
Inside [it's almost impossible for me to get a good shot of everything through the small hole]: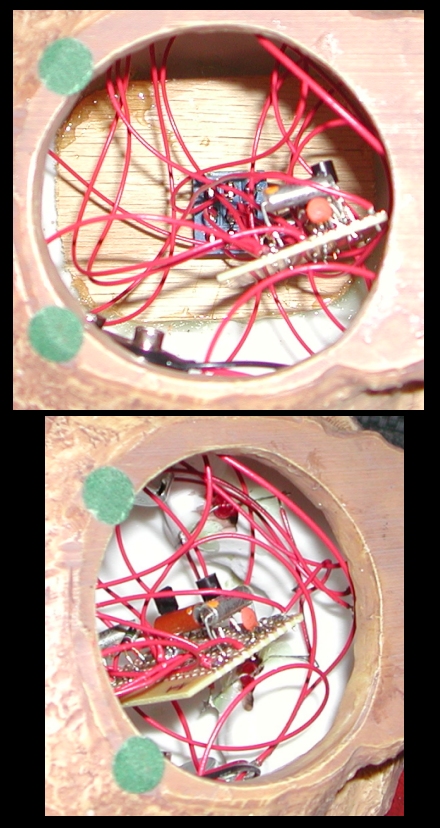 I like to play in the dark:
Back to the light [still haven't decided on what knobs, if any I will use]: