Ok, so I built it. 4 valvecasters in series @ 12v. I'm not quite done tweaking, but here's some pics and a video demo (on bass and guitar) so you can hear it.
Basically I used the stock valvecaster circuit with just a few mods:
1. Instead of the pots to ground on the cathodes I used a voltage divider after the first gain stage as a gain control. The pedal doesn't have the DC noise the valvecaster has when adjusting the gain.
2. I stuck with stock plate resistor values, but did play with the coupling cap values, mostly because I'm using it on bass. I started with the stock 47nF but slowly increased at each stage to 1uF by stages 7+8.
3. I used 100k trimpots on the the cathodes (pin 3) of all 4 tubes. I can adjust the gain of each tube independently to set the overall gain of the pedal. Maxing them all out tends to make the pedal sag with hard string hits, something I'm still dealing with ATM.
4. I did not use a tone control. It honestly doesn't need one!
5. V2-4 are 12AU7s while V1 is a 12AT7. I used JJ tubes. I like the added boost and distortion from it, and it doesn't change the warm character of the pedal.
6. I went with 12vdc on the pedal from a 2A regulated laptop supply.
The sound on the video is somewhat dark due to the mic on my iPhone and the amp. On a more modern setup there is more high end. It feeds back really nicely.
I will post the schematic I used once I sort out the last few bugs. My gain control is really only effective in about 1/4 of the sweep so I'm going to try an audio taper. Also, as i mentioned before there is some sag with hard string hits and a gating effect right after you stop playing. I'm pretty sure it's related to V2 since I don't have a trimpot on pin 3 (it's straight to ground, ran out of trimpots!) and can't adjust the gain.
I REALLY like the sound of this. It sounds like a JCM 800 driven really hard. Very good sound. If you're looking for a high gain pedal I suggest trying this. If you back off the trim pots and gain control it will get more touch sensitive but still retain that sweet, fat valvecaster tone.
I will post a schematic soon... promise! Until then, here's pics and a video. NOTE: I haven't labelled the pedal yet.
Fantastic looking powdercoated enclosure from Small Bear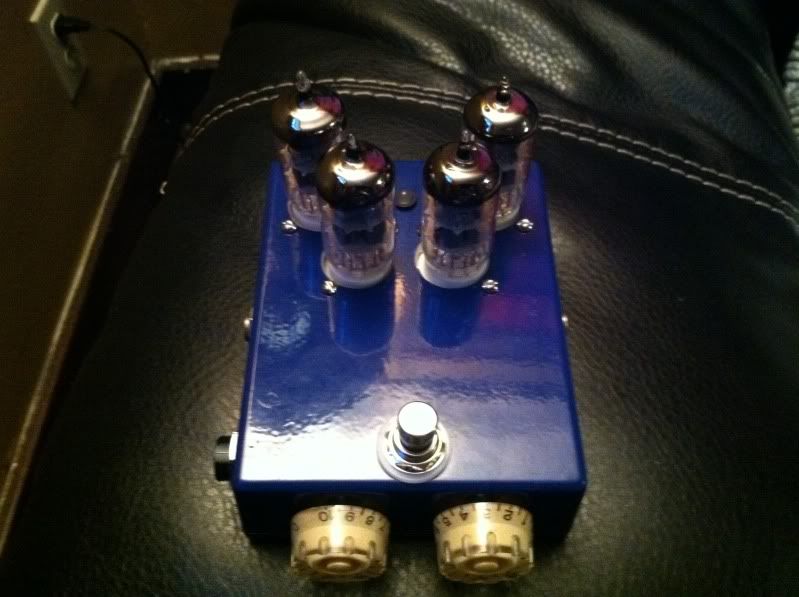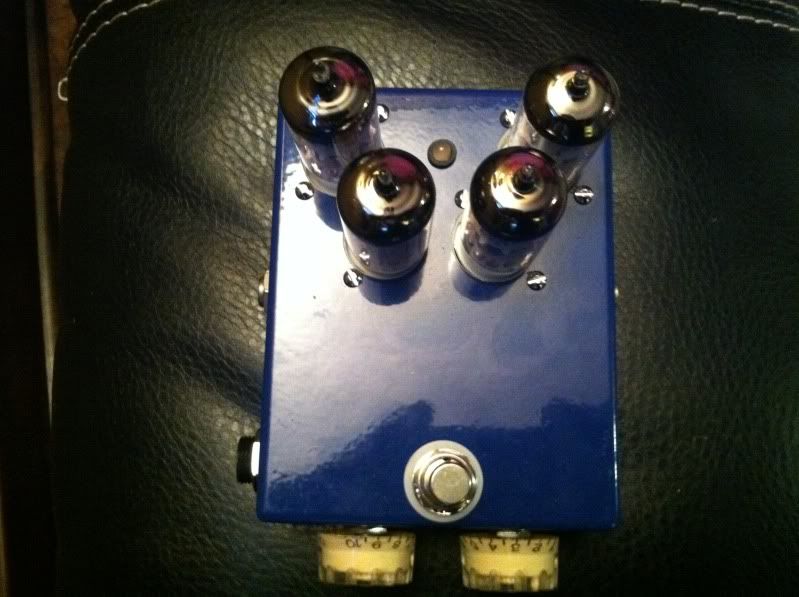 It looks like a rat's nest but it's really quite organized: