Created by aron on 30 Jan 2010 | Tagged as:
DIYstompboxes for the iPhone. (For FREE)!

Access DIYstompboxes.com on your iPhone! Get the latest news on what is happening in the DIYstompboxes world. Check out the latest posts on the forum and purchase parts for your stompbox projects from the store. Connect to the online Wiki for tons of technical info. The online gallery of schematics and pictures are just a tap away.
If you have an iPhone, this is a fun way to keep in touch with DIYstompboxes.com!
Usage: Tap the tab bar on the bottom to select what you want to look at on DIYstompboxes.com. Swipe left and right directly on the page to go back and forward if you are paging through links. You can reload the Home and Forum pages by clicking on the icons again.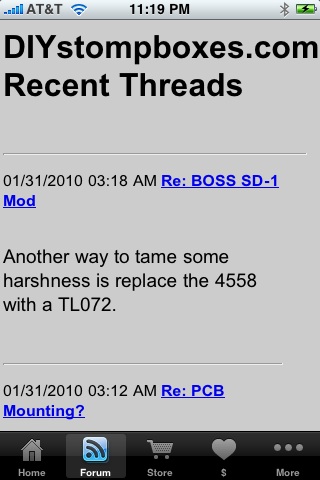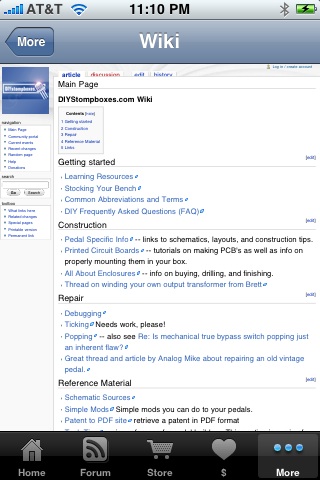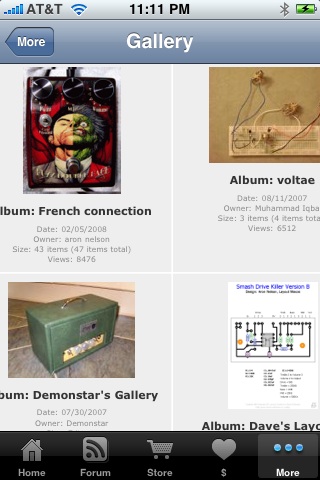 Click the button below to get the app. FREE!


14 Responses to "iPhone"



When will the app be out?




It was submitted last night. Lets see how long it takes to get approved.

on 02 Feb 2010 at 9:18 am #

aron




Under review…. hope it makes it.

on 05 Feb 2010 at 10:15 am #

aron




Rejected! I need to redo the donation button mechanism!

Oh well. Hopefully just a few more days.

on 07 Feb 2010 at 3:01 am #

BoxOfSnoo




Looking forward to it, hopefully this will help me when I draw a blank at the electronics shop on what kind of DC jack to get

on 09 Feb 2010 at 10:08 am #

aron




In review again.

on 09 Feb 2010 at 1:05 pm #

aron




APPROVED! Should be online in about 3 days!




[…] iPhone […]

on 09 Feb 2010 at 1:58 pm #

ugly_guitar_guy




just downloaded it! awesome, congrats aron!

on 09 Feb 2010 at 2:36 pm #

aron




It's online, just click on one of the iTunes buttons above!

on 10 Feb 2010 at 10:27 am #

jlullo




awesome! downloading now!

on 11 Feb 2010 at 5:24 am #

Jon




Now how about a version for the BlackBerry?

on 16 Feb 2010 at 11:46 am #

aron




The new version will have back, forward and refresh buttons as well as a couple of new pages.




You rock Aron. Thanks for the amazing app!
Leave a Reply
You must be logged in to post a comment.