unrealBook 1.993 for iPad is available with iRig Blueboard support. This cool 4 button wireless pedal will allow you to turn pages, start/stop your music, bring up searching functions wirelessly. There are 2 modes – program mode and control mode. In program mode – the buttons are preset in function for unrealBook. In control mode, the buttons can be completely programmed for function! Just set each button to one of the following controller numbers:
Controller number – function
0 – Find popup
1 – Pause/Continue music player
2 – Prev Page
3 – Next Page
4 – Set List song popup
5 – Goto menu
6 – Do menu
7 – Quick Panel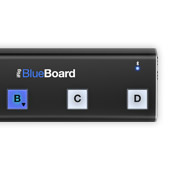 Click on the Blueboard pedal to check it out!